Anthony Kroese – Every Case is a Puzzle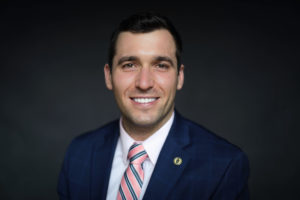 Anthony M. Kroese is a corporate attorney representing clients in commercial disputes and business transactions concerning a wide variety of national industries. He assists clients in commercial transactions, trademark registration and litigation, personal and commercial real estate, and the creative and cost-effective resolution of development and construction contract disputes. He handles franchising, licensing, and other contracts for clients in the sports and entertainment and hospitality industries, as well as advises clients on the day-to-day legal aspects of their organizations. Anthony is also experienced in handling construction defect matters and providing counsel regarding OSHA related issues, including site inspections, investigations, and enforcement actions.
Why did you become a lawyer?
I became a lawyer because of the legal profession's unique ability to assist people in a wide variety of ways and to influence change in society. As a lawyer, I am often able to help clients that feel passionate about their cases and that continues to inspire me to be passionate about the legal profession. Every case is a puzzle that requires creative thinking to reach a resolution and, in my opinion, that is one of the greatest reasons to become a lawyer.
Is it better or worse than you had imagined and why?
Better. As a law student and young lawyer, your career starts out with expectations of how difficult navigating the legal profession will be as a young associate. However, once you gain some experience, you begin to understand the legal process and can start to develop your own voice in the profession. Every day I have the opportunity to expand my legal knowledge while assisting clients, which brings diversity to my practice and a constant expansion of skills.
What advice would offer to anyone thinking of becoming a lawyer?
Talk to lawyers. The legal profession advances by lawyers promoting the growth of the profession. That includes helping young lawyers and prospective lawyers realize where they want to begin their legal career. There are endless opportunities in the legal profession and reaching out to someone that already practices in your area of interest is the best way to start building your network of colleagues.
Additional Information 
Goldberg Segalla is one of the largest and fastest-growing law firms headquartered in the United States, with a footprint that reaches from Los Angeles to London. Its more than 400 attorneys serve regional, national, and international clients from over 20 offices, with teams based in New York, Chicago, Philadelphia, Miami, St. Louis, and other major business and economic centers across 10 states. An AmLaw200 firm, Goldberg Segalla handles all forms of dispute resolution, guides clients through complex transactions, and provides proactive legal and regulatory counsel to help companies and professionals from a wide range of industries minimize and manage risk.