J&J denied bankruptcy in talc suits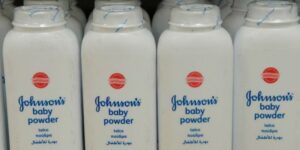 A federal appeals court hit Johnson & Johnson with a major decision today, rejecting a controversial legal strategy the company used to move about 38,000 talc cancer lawsuits to the bankruptcy court.
It's a big setback for Johnson & Johnson and a handful of other profitable companies that have sent subsidiaries to chapter 11 in an attempt to settle mass injury litigation.
Johnson & Johnson says it will challenge the ruling, which is being celebrated by those who have brought injury lawsuits against the company Johnson & Johnson's latest attempt to protect itself against its "baby powder liabilities" has failed. The pharmaceutical giant's subsidiary LTL Management was denied bankruptcy protections by a federal appeals court, which claimed that J&J's petition was not made in good faith, Axios reports. Bankruptcy proceedings would have shielded J&J from potentially billions of dollars in liabilities from nearly 40,000 lawsuits that claim its talc-based baby powder causes cancer. However, the court said J&J was not facing sufficient financial threats and was not eligible for bankruptcy.